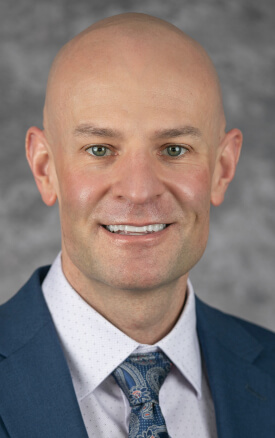 4323 Carothers Parkway
Suite 600 Franklin, TN 37067
Medical College of Georgia
Vanderbilt University Medical Center
Vanderbilt University Medical Center
Internal Medicine, Gastroenterology
Eric Sumner, M.D. is a gastroenterologist at Williamson Medical Group. He joined Elizabeth Lindsey, M.D., on the hospital's gastroenterology (GI) team in September of 2020.Sumner is board certified in gastroenterology. He received a Doctor of Medicine from the Medical College of Georgia before completing his internship, residency, chief residency and GI fellowship at Vanderbilt University Medical Center.With over a decade of experience in GI practices, Sumner also specializes in endoscopic ultrasound (EUS). EUS is a minimally-invasive procedure that utilizes high-frequency sound waves to produce detailed images of the lining and walls of the digestive tract, chest and nearby organs. The procedure is used for cancer staging and biopsy.
Sumner is a music enthusiast, which he often utilizes during procedures. He enjoys learning the musical preferences of his patients and bringing music into his operating room, a practice that has been proven to reduce anxiety and provide a better experience overall.
"GI procedures can be anxiety-provoking situations," Dr. Sumner said. "Sometimes just talking about music and getting to know my patients better helps them relax."
Sumner is also a member of the Brass Band of Nashville, where he plays the cornet and serves on the board of directors. He enjoys barbecuing and taking ballroom dance lessons with his wife.
Dr. Sumner's office is located on the Williamson Medical Center campus in the Physicians Plaza at 100 Covey Drive, Suite 304 in Franklin. He is currently accepting new patients, and appointments can be made online by visiting WilliamsonMedicalCenter.org/GI or by calling (615) 791-2330.